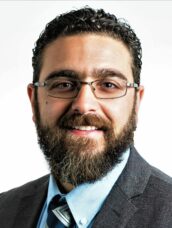 Alex Caruana has been a representative of the Australian Federal Police Association for the past 15 years, having worked at all levels of the AFPA with a track record of achieving the best outcomes for members.
Alex was first elected as an assistant workplace delegate in 2006 at the age of 24, where he was a fierce advocate for police and unsworn members working in Forensics. In 2015, Alex was elected to the AFPA National Executive. He ascended to the position of Vice-President in 2019.
Alex was elected substantively as AFPA President in March 2021, after acting in the position for six months.
Alex's career with the Australian Federal Police has seen him serve across a range of positions, functions and levels both nationally and internationally. He was awarded the Timor-Leste Solidarity Medal and a Presidential commendation for conducting the forensic ballistic investigation on the assassination attempts on both the then East Timorese President and Prime Minister Jose Ramos Horta and Xanana Gusmão.
Alex first started full-time work with the Association as Principal Organiser and found much professional and personal fulfilment in the role. The daily interactions with members and workplace delegates demonstrated what was working and what needed to be fixed, and Alex was unafraid of challenging the status quo.
This "frank and fearless" attitude carried over to his tenure as Vice-President and President.
Amongst his achievements since becoming President are:
Securing a Determination for the extension of EA 2017-2020, without loss of pay and conditions;
The successful lobbying of government for more police officers and improved accommodation for ACT Policing;
The significant growth and development of the AFPA Legal & Industrial Team, with a direct benefit to members; and
The rollout of the Operation Recognition campaign, which even in its early stages has made and is continuing to make a difference to members' welfare.
Alex's medium- to long-term priorities are:
Securing the AFP's exemption from the Workplace Relations Policy;
Managing the struggle with efficiency dividends;
Ensuring leave and entitlements are retained;
Protecting and growing AFP members' base salaries, so that they regain and maintain parity with other jurisdictions and agencies; and
Increasing sworn member numbers.