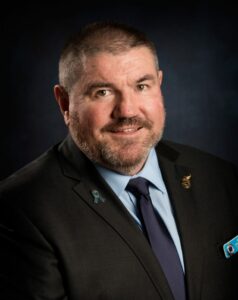 Mr. Tony King joined the NSW Police Force in 1989 and has risen to the rank of Detective Senior Constable in his 29 years of service.
 Tony has served at various stations throughout metro and country NSW including
 1989 – 1992 – Fairfield, General Duties
1992 – 1995 – Moree, General Duties / Special Operations Group
1995 – 1999 – Deniliquin Criminal Investigation Duties
1999 – 2012 – Grafton Criminal Investigation Duties
2012 – present – Grafton Rural Crime Investigators
Tony completed Detectives Designation in 1998 and has been accredited as a Hostage Negotiator since 1997.
 Tony has been a Branch Official at Grafton for the Police Association of NSW since 1999; Executive member for Northern Region (2008 – 2014) and elected to the role of Treasurer in 2014-2018.
 In May 2018, Tony was elected, by delegates to the PANSW Biennial Conference, as the President for the Police Association and is currently still serving his four (4) year term in that role.