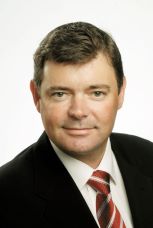 Mark Carroll joined the Police Association of South Australia as an 18-year-old, at the beginning of his police career in 1985.
He graduated from Fort Largs police academy with Course 12 in 1986 and worked as a patrol officer in Adelaide. In 1989, he transferred to the West Coast of South Australia and took responsibility for policing the Yalata Aboriginal community.
In 1990, Mark returned to Adelaide, began to develop an interest in police industrial relations and, in 1991, became the inaugural Police Association workplace delegate for Bank St police station.
Mark was elected to the association committee of management in 1992, and fulfilled that role until 1997 while working with Hindley St beats, Adelaide Crime Enquiry Unit, the Vice and Gaming Task Force and Adelaide CIB.
In 1997, the Police Association appointed Mark as its full-time union organizer. He took leave without pay from SAPOL to take up the role and, two years later, became the association's assistant secretary.
By the time he was elected president in 2008, Mark had taken a leading role, along with now former president Peter Alexander, in four enterprise agreements.
In 2010 Mark was elected as vice-president of the Police Federation of Australia, which represents almost 60,000 police across the nation. He served his state presidency and national vice-presidency simultaneously.
In 2011, Mark secured an enterprise agreement which delivered average wage increases of 17 per cent over 36 months. He spent almost 12 months locked in intensive negotiations with the government and the Commissioner of Police in order to bring this agreement about – in a difficult economic environment.
In a subsequent ballot, Police Association members showed their overwhelming support for the agreement, with 99 per cent voting "yes". This was the highest "yes" vote since the Police Association began operating within the enterprise bargaining system 18 years ago.
Mark became qualified for the rank of sergeant after he completed the Police Studies Certificate in 1994. He also holds a Bachelor of Arts degree (labour studies) from the University of Adelaide and is a member of the Golden Key International Honour Society.
In 2005, he completed the Police Union Executive Leadership Program at Michigan State University in the United States.
In 2014, Mark was unanimously elected president of the Police Federation of Australia by members of the PFA federal council. The council has returned him to the presidency each year since then and he continues to occupy the role as of 2018.
Mark was recognized in the Queen's Birthday honours of 2018 when he was awarded the Australian Police Medal.