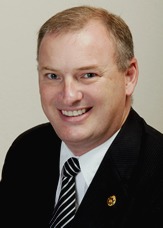 Jon has 30 years of service in the Australian Federal Police. His background includes federal investigations relating to Serious and Organized crime, including illicit drug importations and immigration offences; Crime Operations including economic & major crime such as corporate and commonwealth fraud; and Intelligence including special intelligence probes.
Jon is the current National President of the AFP Association which represents all AFP employees having been first elected in 1997 and he has held this elected position for 17 years. He is the longest serving President in the Association's history with his current term expiring in 2016.
In 1997-98 Jon was instrumental in gaining the support of his AFPA colleagues to alter the AFPA rules to allow for the formation of the Police Federation of Australia. In 1999 he was also heavily involved in negotiating with the then ACT Minister for Justice for their support for the development of the National Police Memorial.
Jon has led his organisation into the field of political lobbying on behalf of the profession, expanding law enforcement assistance and legal funding, establishing the first National Police Welfare Fund (the AUSPOL Police Welfare Foundation) for members and providing discounted lifestyle benefits and services.
As AFPA National president, Jon established the AFPA's four pillars of operation as Profession; Employment, Welfare; and Lifestyle services. Jon also introduced the first Loyalty Reward Program within industrially registered organisations. The AFPA member Loyalty programme has four tiers of membership, being Bronze, Silver, Gold, and Platinum. This attraction and retention strategy has been well received by members providing them additional benefits and services based on continuity of membership.
Jon in his role of representing and supporting the men and women of Australian law enforcement has successfully lobbied Government on a breadth of issues over the years and has been at the forefront of significant proposals for change. Many of these changes within law enforcement were adopted by successive governments and have served to protect and improve the rights of Australian law enforcement personnel.